Fire Extinguishers
Niagar​a Fire provides sales, service, installation as well as monthly, quarterly and annual inspection services for commercial, institutional and industrial fire extinguishers.  
---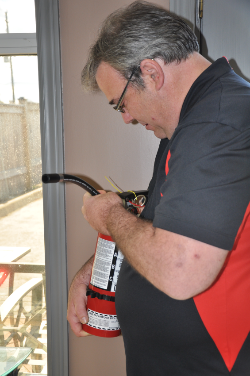 Inspections involve ensuring your fire extinguisher: 
has no physical defects
the lever is functioning
no blockages in spray tube
meter displays in the green
weighs correctly
All fire extinguishers must be inspected on a monthly basis with annual inspections by a certified specialist to ensure functionality and conformity to fire safety codes.  Fines can be substantial if your business is found in default of fire safety regulations. 
Niagara Fire performs a thorough examination and testing process on each fire extinguisher at your facility on an annual basis, (monthly checks can be arranged as well). While on the premises, we will also let you know if there are other deficiencies in your fire safety features. 
---
Complete this form to send us a referral and receive an awesome gift?
What Our Clients Say...

Rob informed us of current regulations, inspected and replaced expired extinguishers, tested our emergency lighting and replaced a faulty smoke detector with a dual smoke/carbon monoxide detector. Efficient and at an affordable price.