Smoke and Carbon Monoxide Detectors
Smoke detectors and carbon monoxide detectors are often your first warning signal in saving lives. 
---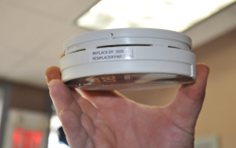 Smoke detectors, carbon monoxide detectors and dual smoke/carbon monoxide detectors should be standard prevention equipment in your facility. They are often your first warning sign.  
Niagara Fire ensures they are placed in the correct location, they are tested and within their expiration date. Did you know smoke detectors have an expiry date? Probably not.  
That is what Niagara Fire is here for - to keep you current on fire safety code regulations through sales, service, installation and inspection. 
---
Complete this form to send us a referral and receive an awesome gift?
What Our Clients Say...

Rob informed us of current regulations, inspected and replaced expired extinguishers, tested our emergency lighting and replaced a faulty smoke detector with a dual smoke/carbon monoxide detector. Efficient and at an affordable price.